ANALISIS SISTEM MANAJEMEN PEMANTAUAN KESEHATAN DAN DOSISRADIASI PERSONAL BAGI PEKERJA RADIASI DI INSTALASI RADIOLOGI RUMAH SAKIT ISLAM SUNAN KUDUS
ANALYSIS OF MANAGEMENT SYSTEM HEALTH MONITORING AND RADIATION DOSE FOR WORKERS IN INSTALLATION RADIOLOGY HOSPITAL ISLAM SUNAN KUDUS
Asih Puji Utami

Universitas Widya Husada Semarang

Nanik Suraningsih

Universitas Widya Husada Semarang

Nur Utama

Universitas Widya Husada Semarang
Abstract
Radiology department of Islam hospital Sunan Kudus implement health monitoring for workers radiation two years.
This type of research is a qualitative research approach in this study is observasi. Research from the results of the
monitoring of health care for workers in Radiology Department of Islam Hospital Sunan Kudus implemented once in
two years, the implementation of personal radiation dose monitoring for radiation workers is with every month send the
film badge that has been used to BPFK and replace with a new badge. Radiation Protection Officer informs the results
of the evaluation to radiation workers and tending the evaluation results. Implementation of personal dose monitoring
for radiation workers in the Radiology Department of Islam Hospital Sunan Kudus have been conducted in accordance
with standard PP RI No. 33 Year 2007, but implementation of health monitoring for radiation workers have not been
fully implemented in accordance with the standards established by Regulation No. 33 Year 2007.
References
Hasibuhan, M. 2000. Manajemen Sumber Daya
Manusia. Jakarta : Bumi Aksara.

KEMENKES No.1087 tahun 2010 tentang Standar
Kesehatan dan Keselamatan Kerja di
Rumah Sakit.

Jessica. 2013. Dosimeter Personal,
Jessicagarcipuspita.blogspot.com. 20
November 2014.

Perka BAPETEN No.8 tahun 2011 tentang
Keselamatan Radiasi dalam Penggunaan
Pesawat Sinar-X Radiologi Diagnostik dan
Intervensional.

Perka BAPETEN No.6 tahun 2010 tentang
Pemantauan Kesehatan Untuk Pekerja
Radiasi.

PP RI No.33 tahun 2007 tentang Keselamatan Radiasi
Pengion dan Keamanan Sumber Radioaktif.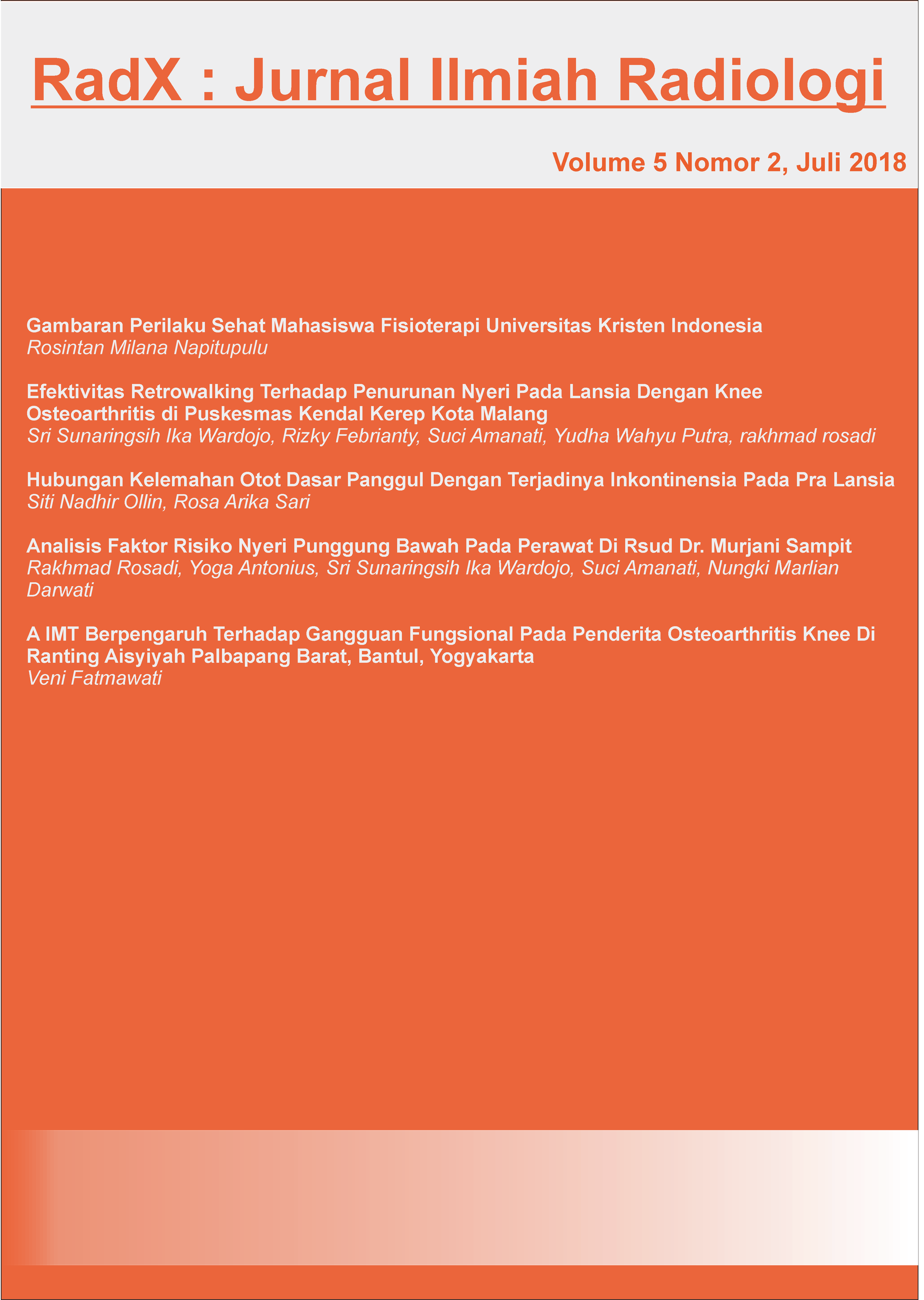 How to Cite
UTAMI, Asih Puji; SURANINGSIH, Nanik; UTAMA, Nur. ANALISIS SISTEM MANAJEMEN PEMANTAUAN KESEHATAN DAN DOSISRADIASI PERSONAL BAGI PEKERJA RADIASI DI INSTALASI RADIOLOGI RUMAH SAKIT ISLAM SUNAN KUDUS.
RadX : Jurnal Ilmiah Radiologi
, [S.l.], v. 1, n. 1, july 2016. ISSN 2527-6581. Available at: <
http://journalwh.uwhs.ac.id/index.php/jdx/article/view/3
>. Date accessed: 29 june 2022.